The Grange is a more traditional venue, it was fully refurbished in 2011 and is now available to hire. This beautiful building is ideal for Board meetings, Small Meetings, Bridge or card clubs, training sessions, Small Birthday parties etc. Why not have a special lunch time celebration in The Grange, ideal for a family gathering? The Grange has a fully equipped kitchen for all your needs.
Reception / Open area
Radcliffe Room
Dowson Room
Fully Fitted Kitchen
The Reception
This is a lovely open area suitable for informal meetings, or can be used as a reception area to greet people attending a meeting and so on.
It is also available as an alternative space for a coffee break to allow those in a meeting a chance to get up and move around.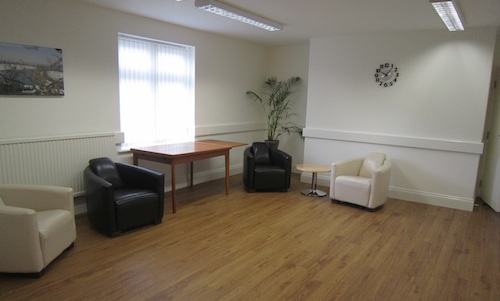 The Dowson Room
The Dowson Room retains its old fashioned appeal while benefiting from lots of window light.
The room is approximately 5.36m x 4.75m (17ft 6in x 15ft 6in) plus the bay window area.
The room is suited to use for small meetings and presentations.
It is ideal for small family gatherings such as a birthday party or meal.
The room has 8 square tables and 32 chairs that can also be arranged in a variety of layouts, singly, or in twos, fours, or an eight.
Radcliffe Room
The Radcliffe Room is a light airy room, ideal for formal meetings and presentations.
The room is 7.3m x 4.6m (24ft x 15ft).
The conference table lay-out is a fixed arrangement.
It seats 18 – 20 round the long table in 'boardroom' style with space for an additional 10 seated along the left hand wall.
The room is fitted with a media screen compatible with HDMI
The Kitchen
This fully fitted kitchen is very spacious with large cooker, food preparation table and fridge-freezer.